You are here: Home > Burlington Northern Section > BN 6905
BN 6905
BN SD40-2 6905 was actually built in 1973 as the BN 6369, one of a group of 36 SD40-2's numbered 6340-6375 and delivered in 1973. They were equipped for Locotrol Remote operation and intended for general freight service when ordered. The 36 new SD40-2's were assigned to Livingston, MT.
I first saw the 6369 at Interbay, WA on 10-15-73 after coming in on train #97 with units 5756/6402/6369 (U33C/SD45/SD40-2).
Not long afterwards BN renumbered the 36 SD40-2's into 6800 and 6900 series to separate the Locotrol master and remote units. The 6364-6375 became Locotrol Remote units BN 6900-6911 with the 6369 renumbered to BN 6905. They remained assigned to Livingston for maintenance.
The first time I saw the 6905 was on 7-29-74, again at Interbay in a consist of C&S 885/6905/5760 (SD40/SD40-2/U33C).
I have just one photo of the 6905 and that was taken at Interbay on 2-22-80.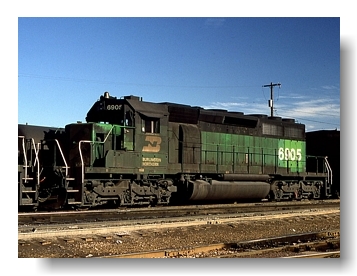 The lighting is not the greatest and it is filthy, but as I have found very few photos of the 6905 on the internet I guess I am glad to have this roster shot of it.
Probably one reason there are few photos of the 6905 is that it was destroyed in a head on collision near Ledger, MT 8-30-91. The 6905 was leading train #603 with units 6905/6901/2287/2283/2274/2289 and because of a track warrant error collided head on with train #602 led by 2275/6909/8009 on the Great Falls/Shelby, MT line. All nine units were destroyed and three crewmen perished. The 6905 and the other locomotives were scrapped after the collision.