You are here: Home > Burlington Northern Section > BN 6704
BN 6704
BN 6704 was one of an 8 unit SD40-2 order from EMD built 12/74 and numbered 6700-6707. Even with coal train service on the increase these eight were intended for the general freight pool.
First time I saw the 6704 came on 9-3-82 so it took awhile before I eventually caught it. It was a cloudy Friday when BN train DPS came into Seattle at 3:10 PM with 6704/4032/6459/6571 (SD40-2/B30-7A/2 SD45's) It was of course in the as delivered green and black with white nose stripes.
After 1989 the 6704 was repainted into the now standard "white faced" scheme" with a large BN on the nose and white on the cab front. It was five years after the formation of the BNSF on 9-1-00 that I first photographed the BN 6704 in this scheme at Argo, just south of Seattle, my first photo of the 6704.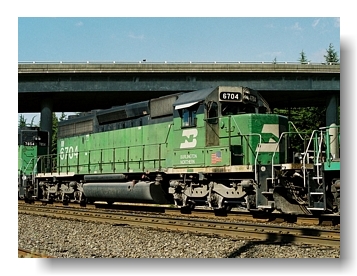 On 4-1-02 the 6704 was relettered to BNSF 6704, but kept the whitefaced scheme. Between that time and my next photo of it on 8-24-08 it had a large primer patch painted underneath the dynamic brakes. I was in Eastern Washington and caught it leading an eastbound freight on the ex-NP at Babb, WA west of Spokane.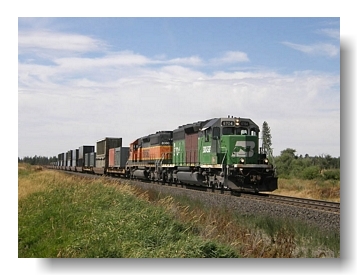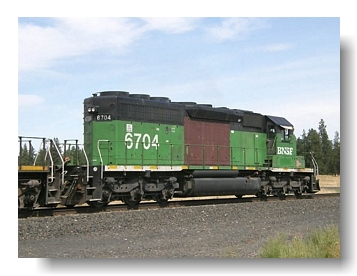 On 12-22-10 the 6704 was renumbered to BNSF 1837 to make room for more BNSF GE ES44C4's that were delivered new in 2011.
Since renumbering the ex-6704 as BNSF 1837 has been working around the Tulsa, OK area and though I have not seen it, Erik Edmonds has, and has given me permission to share a few of his photos of the BNSF 1837.
First is BNSF 1837 at Tulsa, OK on 7-24-11.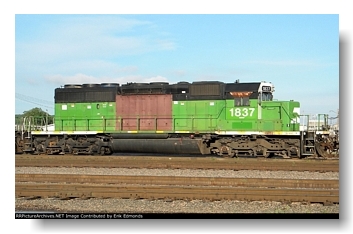 Photo by Erik Edmonds
Used with permission
And one more time at Claremore, OK leading a freight train.
Photo by Erik Edmonds
Used with permission
Note that the large primer patch remains on the SD40-2. Someday I would like to see the 1837 but for now am happy to see photos of it taken by others.