You are here: Home > Burlington Northern Section > BN 6331
BN 6331
In early 1972 BN took delivery of EMD SD40-2's 6325-6334, assigning them to Livingston, MT for general freight service. The 6331 was built in February of 1972.
I first saw the 6331 at Interbay, WA 10-25-72 on a westbound freight arriving with units 6617/6303/6331 (F45/SD40/SD40-2).
Six years later on 12-29-78 I photographed BN train #148 arriving at Interbay with the 6331/684/4194/1797 (SD40-2/F7A/RS11/GP9)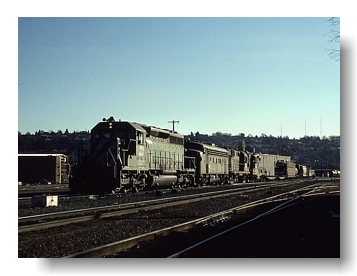 I took this roster shot of the 6331 at Interbay 6-28-80.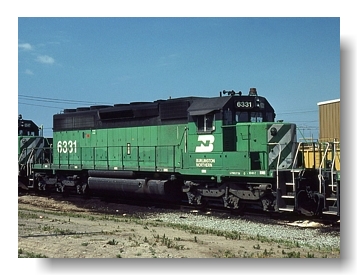 Note that in 1980 the 6331 still shows Livingston stamped on the side sill where it was last assigned.
After the 1996 BNSF merger the BN 6331 was renumbered to BNSF 6331 on 8-11-01. It kept BN green paint until it was renumbered BNSF 1912 on 9-1-09. Photos up to 2013 can be found on rrpicturearchives, and was still wearing BN green up to the last photo.
http://www.rrpicturearchives.net/LocoPicture.aspx?id=137299
That was 3 years ago. It will be interesting to know where the 1912 is now, and if it is still in BN green paint.