You are here: Home > Burlington Northern Section > BN 3110
BN 3110
BN took delivery of EMD GP50 3110 in May of 1985. It was the first of 53 new GP50's numbered 3110-3162 purchased for use on light intermodal trains. They follow the 10 Frisco GP50's numbered 3100-3109 ordered by the SLSF in 1980 just before being merged into the BN. The GP50 had 3500 HP.
At the time BN was looking to replace the standard green paint scheme with something more highly visible and the Tiger Stripe scheme was the result. All 53 new GP50's were delivered in the new paint scheme. A large BN on the side also replaced the smaller BN emblem on the cab sides.
I first saw the BN 3110 on 3-1-86 leading train #12 eastbound just off Stevens Pass at Coulter Creek east of Merritt, WA.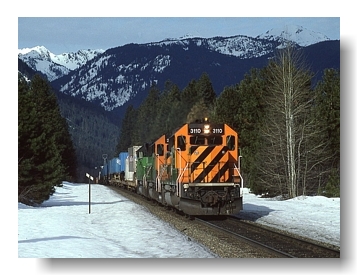 You have to admit the orange did stand out against a dark background. On 6-1-86 I again caught the 3110 leading a train on the Stevens Pass line, this time on train #7 at Dryden, WA.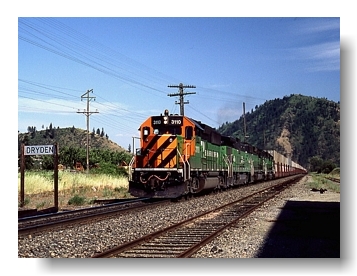 Early in 1989 BN decided to experiment with the paint scheme choosing GP40's 3110 and 3112. On the 3110 the black around the number boards and the black stripes on the nose were repainted white. It was certainly different! I photographed the 3110 leading train #111 south out of Seattle on 11-1-89. Why does orange creamsicles come to mind?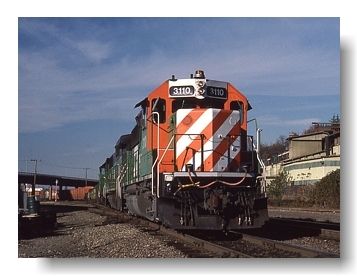 A roster of the 3110 shows the large BN on the side of the locomotive.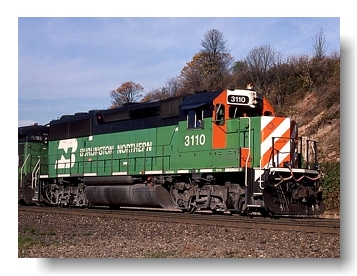 Further south also on 11-1-89 the 3110 is running wrong main through South Seattle to Black River where it will cross over to the southbound main.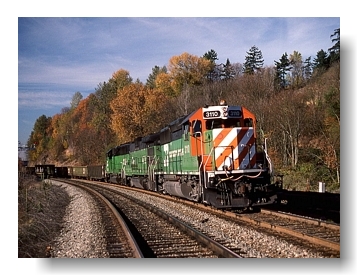 This experimental paint scheme was short lived as BN decided to go with the white faced scheme introduced in late 1989 as it was less expensive to apply. The 3110 was repainted into the white faced scheme fairly quickly after it was introduced.
On 3-26-94 I photographed the 3110 westbound on train #3 coming into Skykomish, WA off of Stevens Pass.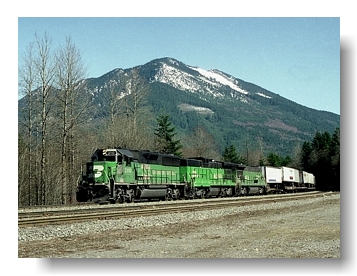 A few years later, the 1996 BNSF merger saw the BN 3110 renumbered to BNSF 3110. As of the date of this writing the BNSF 3110 still wears BN green but the horsepower was derated and is now used in local and switching service, a far cry from the hot intermodal trains it once pulled. The last photos I have seen of the BNSF 3110 were taken in 2012 at Ft Worth, TX.