You are here: Home > Burlington Northern Section > BN 2729
BN 2729
BN GP39-2 2729 was built by EMD in April 1981 as part of the series 2700-2739. It was a cloudy 7-22-81 when I first saw the BN 2729 on train #138 with units 2722/2734/2727/2729 arriving in Seattle at 12:22 PM.
It was not until 5-1-91 when I took my one and only photo of the 2729. It was leading train #696 with BN units 2729/3052/2971/4036/2820.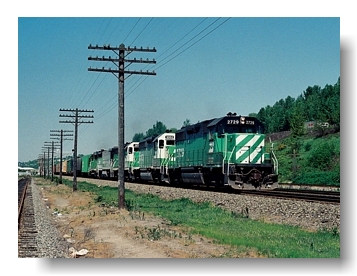 That was my last photo as on 11-11-93 it was on BN train #111 heading south out of Longview, WA when the train crashed head on into a northbound UP freight killing all five crew members and destroying 6 of the eight locomotives involved, including BN 2729.