You are here: Home > Burlington Northern Section > BN 2077
BN 2077
BN GP38 2077 built in February 1970 was one of six GP38's originally ordered by the SP&S (200-205) but changed to BN once it appeared the merger was going to be approved and delivered as BN 2072-2077. The EMD Built GP38 has 2000 HP.
All six came out west at the start of the merger and I first saw the BN 2077 on 3-26-70 on a southbound freight out of Seattle. Power for that train was BN 2077/NP 380 (GP38/GP18).
The Hol Wagner BN Annuals shows the 2077 assigned to Minneapolis Jct along with the 2072 and 2076.through 1976.
I photographed the 2077 at Interbay, WA on 7-24-80 and the stencil on the sill showed it was then assigned to Vancouver, WA.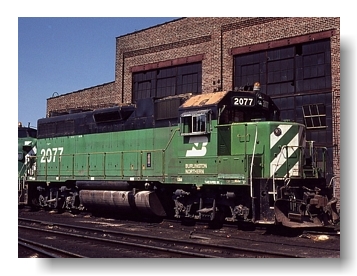 On 7-27-85 the 2077 led train #693 with the 2077/2503/1770/2083 (GP38/GP35/GP9/GP38-2) south through Black River, WA.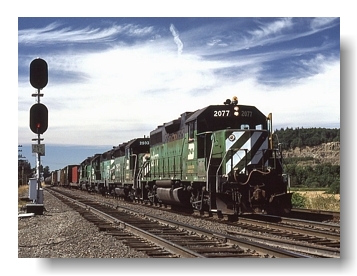 Here is a rooftop view of the GP38 taken in Tacoma, WA 6-26-83 as the 2077 leads train #146 north through Tacoma, WA.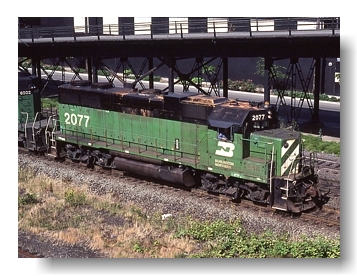 By 1992 the 2077 was assigned to Interbay at which time the 2072-2077 were all assigned to the Seattle area. On 4-13-93 the 2077 led southbound garbage train #93 out of Seattle for the Roosevelt, WA landfill.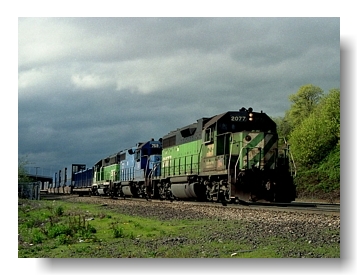 And again at South Seattle, WA.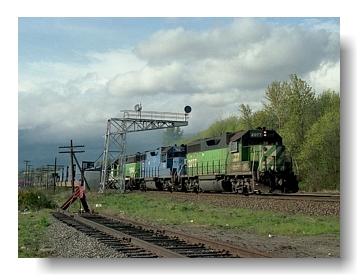 After the BNSF merger the BN 2077 remained assigned to the area and I caught it on the Yakima to Ellensburg local 5-22-98 heading back to Yakima near Wymer, WA in the Yakima Canyon.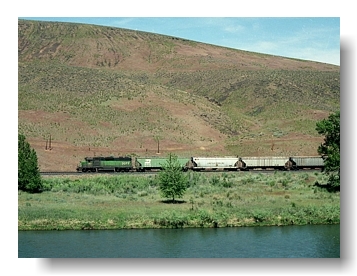 In June 2000 the BN 2077 was renumbered/relettered to BNSF 2142 but so far into 2015 has kept the BN green paint. It is however currently laid up and out of service.