You are here: Home > Burlington Northern Section > BN 6631
BN 6631
BN 6631 was built by EMD in April of 1971. It was one of 3600 HP F45's numbered 6626-6645 and was assigned to Havre, MT for maintenance working mainline trains between Seattle and Chicago.
First time I saw the BN 6631 was on 6-19-71 when I noted a westbound train leaving Skykomish, WA with units 6518/6481/6628/6631 (SD45/SD45/F45/F45) headed for Seattle. During 1974 the late Stan Lytle and I befriended a number of engineers and on the late shift we'd show up at Interbay and choose which train crew we wanted to ride with over to Wenatchee. One May night train #4 was preparing to leave Interbay and Stan and I got to invite to tag along. Power for tonight's train was the 6631/6508 (F45/SD45) which was a bit unusual as the hotshot always rated three big units. Riding in the 6631 we got up to around Foss River bridge east of Skykomish when the train stalled. A set of helper units came down from Scenic and tied onto the front of the 6631 and helped us over the hill. The helpers came off on the east side and the train continued on to Wenatchee where we got off. This was our first Stevens Pass train ride and being in F45 6631 made it special.
I didn't have any further "close encounters" with the 6631 but I did photograph it at Interbay on 6-27-78.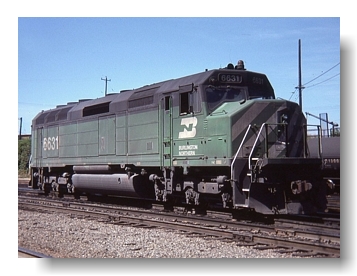 The 6631 continued in service until it was stored and retired in February 1986. It was sold to NRE and then to MK for parts.