You are here: Home > Burlington Northern Section > BN 6625
BN 6625
BN 6625 was the last of twelve EMD F45's ordered by the Great Northern to be numbered 441-452 but with the 1970 BN merger were delivered as BN 6614-6625 instead. The BN 6625 was built in September 1970.
So it appears that the BN 6625 was the last locomotive ordered by the Great Northern Railway.
After delivery all the BN F45's were assigned to Havre, MT for maintenance as they worked the Northern Transcon between the PNW and Chicago.
I first saw the BN 6625 on 9-20-70 at Interbay, north of Seattle, WA in a power set of 6623/6625/5676/5615/4118 (F45/F45/U28C/U25C/FA1).
One of my first photos of the 6625 was leading Amtrak's Empire Builder out of Seattle 1-26-77 with the BN 6625/AMTK 536 (F45/SDP40F) at a time that many of the big Amtrak C-C's were banned from the BN.
Three years later on 2-21-80 the 6625 and sister F45 6624 were at Skykomish, WA being used as a Stevens Pass helper set. Note the white stripes of the 6625 don't reach the corners of the F45's front end.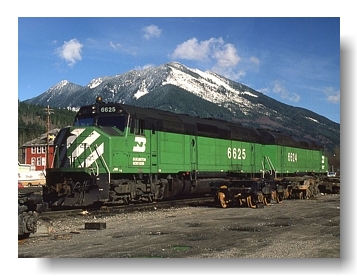 The locomotive trucks next to the F45's came from BN SD40-2 6367, the lead unit of a westbound entering the Cascade Tunnel 2-10-80 that broke away and ran down the west side of Stevens Pass until derailing on a curve and coming to a rest at the shoulder of US 2. Replacement trucks for the SD40-2 to get it out of Skykomish once brought down by truck are also present.
BN 6625 was retired in August of 1985, returned to the lessor and sold for scrap.