You are here: Home > Burlington Northern Section > BN 6621
BN 6621
BN 6621 was one of 12 EMD F45's ordered by the Great Northern to be numbered 441-452 but with the 1970 BN merger were delivered as BN 6614-6625 instead.
BN 6621 was originally planned to be numbered GN 448. The 3600 HP F45 was built in September of 1970 and delivered in Cascade Green.
The 6621 was immediately placed in service on trains between Chicago and the Pacific Northwest being assigned to Havre, MT. The BN 6621 is noteworthy as being used in a Howard Fogg painting showing it on the cover of the BN 1971 Motive Power Annual by F. Hol Wagner Jr.
I photographed the BN 6621 leading train #130 out of Wenatchee, WA for Spokane on 7-7-79. Here the train is out of Malaga, WA led by the 6621/2212/1533 (F45/GP30/GP7):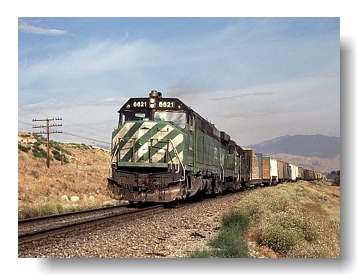 On 7-5-82 I roster shot the 6621 at Wenatchee, WA as it departed on a westbound.
A few years later on 9-8-84 I caught the BN 6621 running as a lite helper back to Wenatchee on the Stevens Pass line at Winton, WA.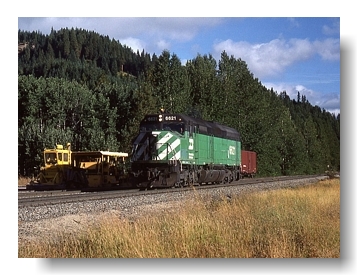 The 6621 was retired on 8/85, just 15 years old. It was sold and scrapped in 1986.