You are here: Home > Burlington Northern Section > BN 5122
BN 5122
BN C30-7 5122 was built by GE in July of 1980 to be used primarily in coal service.
Of the BN C30-7's in the series 5000-5141, the 5122 came from the group numbered 5047-5126 and delivered between March and July 1980.
I first saw the brand new 5122 at Interbay on 8-6-80 after it had arrived on a westbound freight, and not a coal train. It was north of the service area and here it is being started up to be moved back to the service area with a puff of white smoke as it chuggs to life.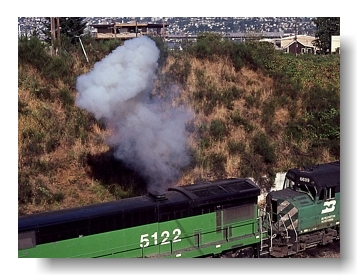 Moved closer to the engine facility I got another photo of the very clean C30-7, though notice the oil spill back at the center of the big GE. Looks like something went wrong with it.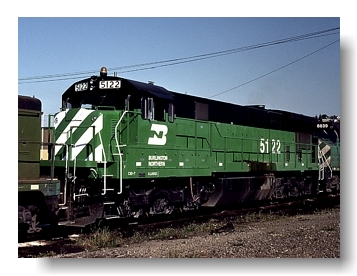 Note the black numbers on white background number boards. Also "Alliance" stenciled on the front side sill for maintenance.
The next time I photographed the 5122 was nearly 20 years later on 9-11-99, leading an eastbound BNSF Z-SSECHC over Stevens Pass on the ex-GN. The BN was now the BNSF but the C30-7 had not seen the change yet. Here the BN 5122 East is passing another eastbound at Gold Bar, WA.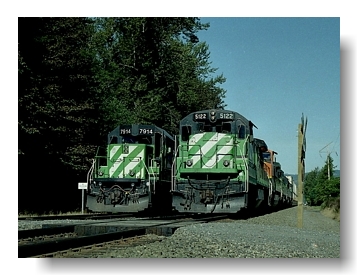 Those number boards have been changed to white numbers on a black background. The class lights are gone and it now has ditch lights. This is at Scenic, WA about to enter the Cascade Tunnel.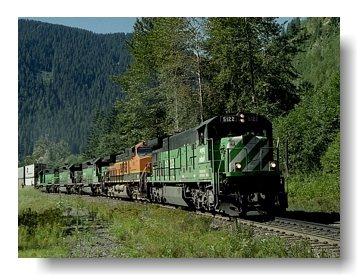 As the Z train exited the tunnel 7.79 miles later at Berne I took a roster of the 5122 as it passed by starting downgrade.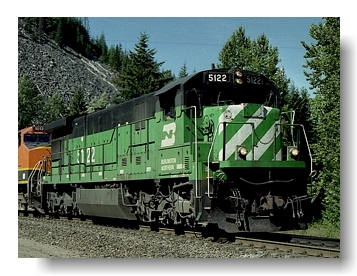 One last photo of the train at Coulter Creek between Merritt and Winton, WA as it heads towards Wenatchee for a crew change.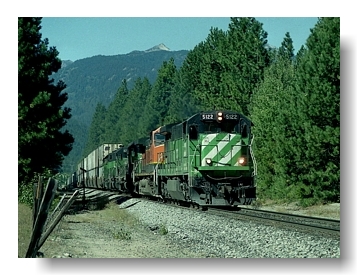 The 5122 was never relettered for the BNSF (no BN C30-7 ever was) but was retired in January of 2001.
It was sold to Ohio Central where it continued to operate in BN green but lettered for the OHCR. Here the OHCR 5122 leads a train at Columbus, OH on 10-20-07.
http://www.rrpicturearchives.net/showPicture.aspx?id=924411
By 2008 it had been repainted and renumbered OHCR 7063.
http://www.rrpicturearchives.net/showPicture.aspx?id=1455666
The show was over in 2010 when the OH markings were painted out and the OHCR older GE's were off the roster and on their way to Florida.
http://www.rrpicturearchives.net/showPicture.aspx?id=2173199
An interesting photo of the ex-OHCR GE's on the Florida East Coast.
http://www.rrpicturearchives.net/showPicture.aspx?id=2259417
The last photos of them were taken in December 2010 at New Orleans. No information on the ex-BN 5122 after that but it is possible that it and the other former OHCR GE's were shipped to Brazil.