You are here: Home > Burlington Northern Section > BN 5007
BN 5007
After BN's series of GE C30-7's 5500-5599 were filled a new number series was started when BN 5001-5007 were delivered in June of 1979. (BN 5000 was delivered later out of order).
BN 5007 was assigned to Alliance, NE when first delivered and worked mainly in coal train service. It was still assigned to Alliance in 1993.
By the BNSF merger the 5007 was still on the roster and could be found in all kinds of service. The BN 5007 is shown here on double stack train #6 leaving Seattle, WA for Stevens Pass on the rainy afternoon of 10-12-96.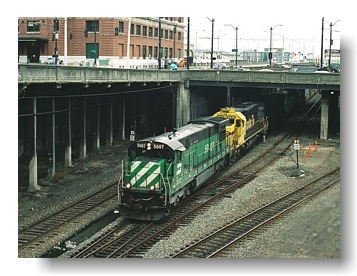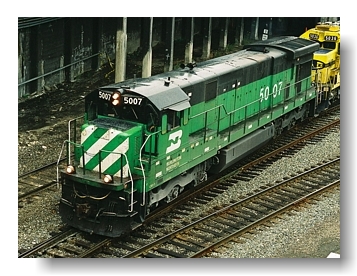 Power for this train was BN 5007/ATSF 5036/EMDX 6504/BN 5134/EMDX 6311 (C30-7/SD40-2/SD40/C30-7/SD40-2).
BN 5007 was renumbered to BNSF 5007 in March of 2001. Here is a 2002 photo at Lincoln, NE of the BNSF 5007 from rrpicturearchives:
http://www.rrpicturearchives.net/showPicture.aspx?id=29175
I have no info on the retirement date or disposition for the BNSF 5007. Once I have it I will update this Tribute.