You are here: Home > Burlington Northern Section > BN 4095
BN 4095
BN B30-7A 4095 was built by GE in October of 1983 and immediately went into transcontinental train service mixed in with BN's SD40-2's SD45's and F45's and used mainly on the ex-GN highline.
I first saw the 4095 on westbound train #3 with units 6570/6560/4090/4095/7853 (SD45/SD45/B30-7A/B30-7A/SD40-2) on Stevens Pass 6-2-84.
My only roster shot of the 4095 was taken at Interbay, WA 9-5-94.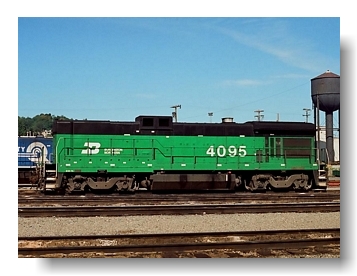 The 4095 lasted into the BNSF merger but was never renumbered or repainted. It was retired on 12-10-01 and scrapped.