You are here: Home > Burlington Northern Section > BN 4005
BN 4005
N B30-7A 4005 was built by GE in June 1982 for use in the general freight pool.
It was the 6th unit of first order of B30-7A (B-units) numbered 4000-4053.
First time I saw the BN 4005 was on 7-18-82 at Vancouver, WA when train #23 with BN 6595/4005 (SDP45/B30-7A) passed through. Almost 13 years later I photographed the BN 4005 on train #691 in Seattle, WA 3-28-95 with units 7857/388/2272/4005.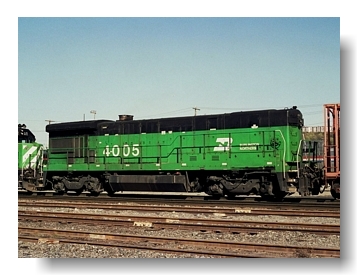 The BN 4005 was retired in early 1999 and like many of the other BN B30-7A's went to scrap.