You are here: Home > Burlington Northern Section > BN 4000
BN 4000
BN 4000 was the class unit of BN's first order of GE B30-7A (cabless B-units) numbered 4000-4053.
The 4000 was built by GE in June 1982 and after delivery went into the general freight pool seeing frequent service between Northtown and Seattle.
I first saw the BN 4000 on eastbound BN train #4 with units 6694/4000/4039/6328 (SD45/B30-7A/B30-7A/SD40-2) on 6-23-84.
In 1990-1991 the B30-7A's were overhauled by GE in Montreal, Quebec and a fresh paint job went with the work I took a roster of the 4000 at Interbay, WA on 5-30-94 showing the paint still looks pretty good four years after the overhaul.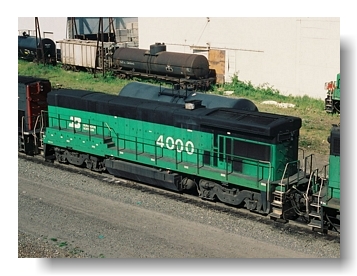 Note the smooth uncluttered roof line of the cabless 3000 HP GE.
In December of 1998 BN began to return the B30-7A's to the lesser and the 4000-4010 were some of the first to go. While a handful of the cabless GE's were picked up by other roads the 4000 was not and eventually scrapped.