Day 4 & 5
Welcome to Day 4 & 5.
Overview
On Monday morning my good weather luck seemed to have run out. It was overcast when I left the motel. Today would be my last full day in Nevada. Tonight I was to be back in Reno for my noon flight home tomorrow. There was very little happening at the Elko yards when I checked it out. There were a couple of westbound general merchandise freights that looked ready to leave and as the first started out I headed west towards Carlin to find some place to photograph it. I chose the footbridge over the ex-SP yard and it soon arrived. My backlit photo of it did not do much for me so I continued west and encountered sunshine west of Palisades Canyon so I decided to stick around this area. The westbound I saw at Carlin showed up and I got some better looking photos as the line curved into the sun at a few locations giving me a better sun angle. From here to Battle Mountain a frontage road followed the ex-SP line pretty closely.
These first three photos were all taken along this section of track. The first train had the UP 4653/2363/7641 leading. It was a pretty short train. I followed it to Battle Mountain where it met an eastbound baretable train with units 3889/7703. The eastbound left Battle Mountain at 10:38am and had good light on it passing an ex-SP signal. I chased it to the end of the frontage road where it headed off to Palisades Canyon. I parked and waited for that second westbound I had seen at Elko. My patience paid off when it showed up at 12:15pm with the 4368/7631/9558. It was backlit but I did like the mountains in the background.
As I was chasing the 4368 along the frontage road I came upon a very large pothole and hit it full on at speed. After stopping I saw I had a bent rim and a very flat front tire on the passengers side. I got out the spare which was a small donut and in 79 degree heat changed the tire. I soon learned I would be driving back to Reno (about 250 miles) on it as I could not get a replacement or this one fixed at Battle Mountain. So it was no more than 50mph driving on the 75mph interstate. I had plenty of trucks and cars passing me even going uphill but no one seemed to get too upset as they raced by which made me feel a lot better. Leaving Battle Mountain I noticed the blue sky turned gray in the distance and the wind picked up. Soon I was in a dust storm and it was pretty bad all the way to Reno. I went through Winnemucca without stopping and slowly continued west. Sore foot, slow driving, and a dust storm was not wha t I had been expecting this trip! Nearing the Highway 95 turnoff I noticed a westbound train sitting in the siding. I headed on over to take a look. It was the 4368 west and I watched as Amtrak #6 went racing by it. I expected the westbound to leave but it didn't and soon a couple of eastbound grain empties showed up.
Here is the second one with UP 5825/8004/7039 moving across rather barren landscape at 4:50pm and then it meeting the 4368 at Ocala, NV. This is MP 318.6 on the ex-SP line to Reno. After the eastbound was by the 4368 pulled out of the siding and continued west.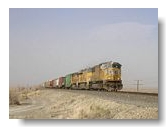 I was glad that the sun was out but it was pretty hazy with the wind blowing hard. As I drove back to I-80 I heard the dispatcher telling the 4368 west wind gusts were clocked at 80MPH between Fernley and Sparks so for them to be aware of that. At my speed I arrived in Reno about 7:00pm and went straight to the motel and checked in for the night. I wasn't really up to driving any more this evening other than getting some dinner.
Long story shot I was amazed when I got up Tuesday morning and saw it was snowing! This was totally unexpected. By the time I got up and out the door it had stopped and melted pretty quickly. Having a number of hours before my plane left I headed out to Lockwood hoping to see some trains. MOW had the mainline but stopped long enough to let Amtrak #5 go by. I walked up to the overpass in 33 degree temps and took this one last train photo.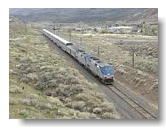 That was the last train I saw and was back at the airport in plenty of time to return the car and get checked in for my flight home. Looking back on this trip I have to say it was a success even with all that went wrong. I got to see the Nevada I had missed back in the 1980's and now wish I had gone out to Elko on at least one of those trips before. I had no idea that Nevada was so scenic and not really a state you needed to hurry through to get somewhere else.