Day 1
Welcome to Day 1.
Overview
Earlier this year I was looking over some maps to see what western states I had not photographed any trains. I could see only one, Nevada. I had been to all the other western states and photographed trains there but Nevada was the one state I had always ignored. And for good reason I thought. I had read in magazines it was a state people usually drove through going someplace else. Twice in the 1980's I had flown to Reno, and headed straight north and west into California to photograph the ex-WP. I had taken a quick look around the canyon east of Reno on the SP on one of those trips but didn't see any trains and apparently wasn't impressed enough to ever go back. This was well before home computers had become popular so I had no idea of knowing what I was missing.
Now I know better. A bit of research and a lot of questions and I knew it was time to correct those past mistakes of the 1980's when I didn't explore what was east of Reno. I figured mid-April would have cooler weather and maybe some greens of spring so I chose Friday morning April 11, 2008 to fly Alaska airlines from Seattle to Reno. I was encouraged with sunny skies as the Boeing 737-800 landed at Reno 15 minutes early. (even the flight crew was surprised!) After I got my rental car I headed east to Sparks where I got lunch. Then it was east out of Reno on I-80 following the ex-SP headed towards Winnemucca where I was going to spend the night, and hopefully photograph some trains before arriving there.
Near Lockwood I could hear the UP dispatcher talking to a westbound local about coming into Sparks. It sounded close so I pulled off the freeways Lockwood exit and waited by the overpass. At 3:09pm the local with UP GP38-2 348 passed by headed for Sparks with a short train. The 348 is a reconditioned ex-NdeM locomotive. Not a bad way to start the trip.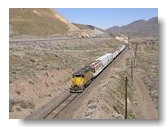 Then I continued east and at Fernley saw another westbound local coming my way. I could see the lead locomotives were T-2's so I got off the freeway and drove back west to Orchard, NV and photographed the train there at 3:48pm.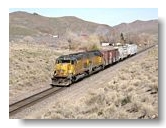 The two units were UP 2915/UP 2862 and are ex-SP 8339/SP 6837 (SD40T-2/SD45T-2R) making them a good catch on ex-SP trackage! Then it was back on the freeway to Fernley where I got off and drove Highway 50 following the tracks to Fallon and then north on Highway 95 back towards I-80. The weather was great but they were not running much in the way of freight trains. As I was following the ex-SP I saw a siding and a road leading over to the tracks so I checked it out. There appeared to be an old building of some kind that was once here and all that was left was a large foundation. The signals were on and green for an eastbound. So I waited it out and eventually had a headlight appear. Turned out to be Amtrak #6 with units 163/2 and it was by at 5:31pm. That is the old foundation in the foreground. This was Parran siding.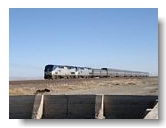 After that the railroad became very quiet so I started east towards Winnemucca arriving there well after dark and checked into the motel for the night. It wasn't the busy day I had hoped for but at least I had finally photographed a train in Nevada. That made me feel pretty good and looking forward to the next morning.