Welcome
Welcome to Day 1.
Overview
Thursday morning June 23, 2011 my sister Laurie and I arrived at Seattle's Sea-Tac Airport and at 10:40 AM were on an Alaska Air flight to Phoenix, AZ. After arriving at Phoenix around 1:30 PM (to a temperature of around 109 degrees!) we got the rental car and were on our way to Williams, AZ arriving at the Canyon County Inn around 5:30 PM. My sister had booked two rooms in the cottage with hers on one side and mine the other facing the tracks. While unpacking in my room I saw the Grand Canyon train arriving outside the window. Cool. I told my sister I was going to go look at the train before we left to get dinner and took the rental car over to the station noticing two dome cars towards the end of the train. I parked and walked over to see which two they were. To my delight one was the Coconino! The other was the former California Zephyr dome Grand View. My first photo of the trip had to be of the ex-NP dome.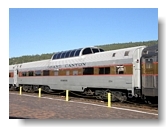 As mentioned, the Coconino was built as NP dome coach 554 in 1954, one of 10 domes numbered 550-559 for the North Coast Limited. (an 11th dome, 549 was added in 1957 as a protection coach) After Amtrak took over passenger service in May of 1971 the 554 became Amtrak 9481 and then 9405 after HEP was added in 1983. After Amtrak it was sold to the Grand Canyon Railway in 1996 becoming GCRY 2094, and named Coconino. In 2006 the whole railroad was sold to Xanterra.
I talked to a crewman on the observation car who said the train would be backing up shortly so I waited near the grade crossing getting anouther photo of the ex-NP dome and the two ex-Amtrak F40PH's leading the train before heading back to the motel.
Plans for the next day included photographing the Grand Canyon train leaving Williams at 09:30 and then photographing the BNSF's ex-ATSF transcon.