Welcome
Welcome to Southern Pacific's Siskiyou Line - From Eugene to Roseburg in August 1991!
Background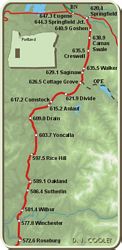 As I am always interested in railroad operations involving semaphores the SP Siskiyou line south of Eugene, OR was close enough to check out on a long weekend drive. From my home in Seattle I drove to Albany, OR for the night and the morning of Friday 8-9-91 found me driving south on I-5 in a driving rainstorm to Eugene and the Siskiyou line.
First train seen was the northbound MEEUM (Medford-Eugene Manifest) with the SP 8281 leading at Divide near Cottage Grove, OR at 12:41pm. I followed it up towards Eugene and waited on the southbound of the day which was the EUMEM (Eugene-Medford Manifest) which showed up around 4pm. Leading was SSW 6872 with an SD40R/SD45T-2R assisting. At Walker, OR a 3 unit helper was added behind the road power. After a very cloudy day the sun finally came out making for a great chase south photographing it passing a number of semaphores. I followed it as far as Roseburg where I was going to spend the night. These are the two trains seen today:

1) NB MEEUM  8281/6771/SSW 9398  (Helpers 7323/6769/7378) Caboose 1967
2) SB EUMEM  SSW 6872/7350/6805/7378/6769/7323  Caboose 1966

Next morning was bright and sunny and the northbound MEEUM was preparing to leave Roseburg when I showed up trackside. SP 6859 was leading and the train had 3 SD9's behind the road power with a three unit helper cut in mid-train. At 0830 the train started north for Eugene. At Walker the helpers were cut out and the train continued on to Eugene. I learned there would be no southbound EUMEM today so after stopping by Springfield to see the local power laying over for the weekend I began my journey back to Seattle. This is what was photographed today:

1) NB MEEUM  6859/7414/7353/4399/4417/4411  (Helpers 7323/6769/7378)
             Caboose 4646
2) SP Local  SD9 4424   Caboose SSW 47 at Springfield, OR  1:30pm

While the train count may have been low I was glad to get a glimpse of SP's operations between Eugene and Roseburg since it would be my only chance to do so while under SP ownership.