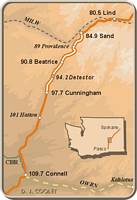 Spring is one of my favorite times to head over to eastern Washington. The grasses are turning green before the browns of summer. Plus it is not scorching hot either. Saturday, April 19 was forcast to be sunny and pleasant east of Pasco, WA so my friend Robert Gatchel and I decided to head over to Providence Hill to see if things were "green" over there yet. We left Seattle before sunrise with Robert driving. The sky was filled with color as we headed up the west slopes of the Cascades and a few breaks in the clouds appeared just east of Snoqualmie Pass on the mountains. Both were worthy of photographs. It wasn't until we got east of Ellensburg before the skies really cleared.

Providence Hill is part of the BNSF's Lakeside Subdivision which extends from Pasco to Spokane, WA. This is also former Northern Pacific main line to the west coast. We arrived at Hatton about 9:30am and our first train was a westbound grain train with warbonnets up front. Then we headed eastward up to the summit of Providence Hill and were pleased to see the hillside in the background was quite green. We spent pretty much the rest of the day around Providence. Clouds drifted in out all afternoon until late in the day when the sun finally won out. The last three trains we saw came in the final hour and turned out to be the best of the day. The last one happened to be a military move westbound to Tacoma, WA and was quite a surprise. It was nearing 6pm after that last train so we decided it was time to head back to Seattle. Here are some of the trains that we photographed today:

1) WB G-HURINB  BNSF 753/ATSF 813 (DPU's BNSF 5239/ATSF 693) Hatton, WA @ 1004
2) WB C-SCMCEC  BNSF 4922/1113  (DPU's BNSF 1036/ATSF 916)  Providence @ 1310
3) WB H-KFAPAS  BNSF 3019/3014/3133/3136/3020  Providence @ 1527
4) EB X-VAWSTE  BNSF 738/ATSF 893/BNSF 801  Providence @ 1717
5) EB H-PASKCK  EMD 9040/NS 9250/NS 8384/BNSF 8100  Providence @ 1734
6) WB U-ALTTAC  BNSF 6477/FURX 7290  Providence @ 1741

It turned out to be a good day to come over to Providence and I am glad Robert and I made the trip. That H-PASKCK really had an outstanding lash up and the BNSF 6477 (SD45-2) leading the military move had to be the highlights of the day for me.

And now on to the Gallery....